Within the open and modular e.DO ecosystem, advanced robotics can mingle with people of all ages and interests.
As an open-source project, the hardware and software structure is designed to encourage application sharing and expansion via the future community and program new coding directly into the robot itself.
e.DO represents a concrete example of the company's innovation strategy which integrates the mentality and approach of a start-up venture with the rich experience and competence base of a global industry leader. e.DO also provides a glimpse of how the industry could move toward the industrialization of professional robots at a lower cost point than can be achieved today.
The e.DO project is backed by community-led expansion.
The Compact Robot Features
a resilient composite plastic structure, Made-in-Italy design and the flexibility to run a wide range of application that fall within its speed and payload parameters. More importantly, e.DO epitomizes the company's ongoing commitment to open automation.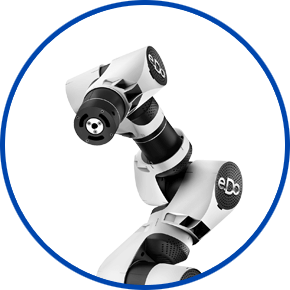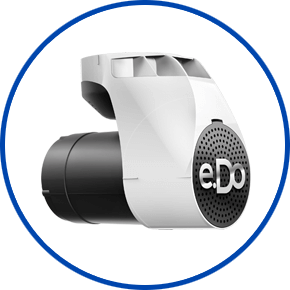 Just Like Building Blocks
e.DO comes with a range of modular pieces including articulated joints, composite plastic casings, bi-directional motors and more.
Anyone Can Build and Configure
e.DO by mixing and matching its modular parts, and control e.DO from a tablet, laptop or PC thanks to the user-friendly programming interface.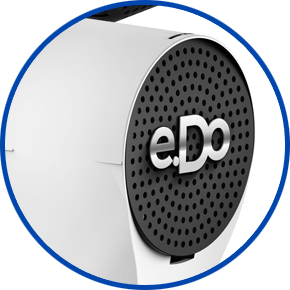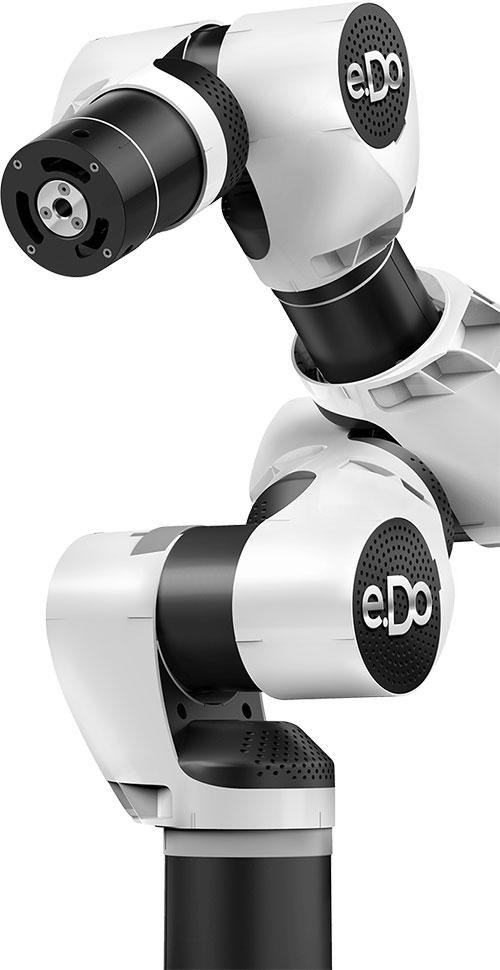 is a unique, modular, open-source, Industry 4.0-enabled, "build-it-yourself" robot kit created for anyone who wants to explore or expand the world of robotics.
Build it Yourself Robot Kit
The e.DO robot kit has everything needed to construct an articulated multi-axis robot with integrated open-source intelligence.
Powerful 6-axis articulated robot kit based on an open-source hardware and software architecture.
Kit includes articulated joints, composite plastic casings, bi-directional motors, an end-effector and a four-prong gripper.
Modular, flexible structure supports personalized configuration, including the possibility to create a Guided Vehicle.
Educational package and application support will come.
User-friendly programming and control interface.
Embedded Raspberry Pi control system.
Application storage server and community management tools.
Simple enough for a teenager to use, yet powerful enough to satisfy a certified engineer.
Technical specifications - Educative robot
| | |
| --- | --- |
| Number of axis | 6 |
| Max Payload | 1 kg |
| Max Reach | 624 mm |
| Stroke/Speed | |
| Axis 1 | +/- 180 deg / 40 deg/sec |
| Axis 2 | +/- 60 deg / 40 deg/sec |
| Axis 3 | +/- 100 deg / 40 deg/sec |
| Axis 4 | +/- 180 deg / 30 deg/sec |
| Axis 5 | +/- 100 deg / 30 deg/sec |
| Axis 6 | +/- 180 deg / 30 deg/sec |
| Total Weight | 13 kg |
| Robot arm Weight | 4.89 kg |
| Structure Material | Ixef 1022 |
| Power Supply | 230 V / 2 A |
| Power consumption | ~ 200 W |
| Hardware | Custom PCB + Raspberry Pi 3 |
| Communication | Ethernet / Wi-Fi / Bluetooth 4.1 / USB |
| Ports | 1 Ethernet + 4 USB + 1 HDMI |
| Interface Programming | Web application, Mobile application |
Specifications

Joint Type (Big)*

Joint Type 2 (Small)**

Maximum Static
Torque

15 Nm

2.5 Nm

Length

117 mm

90 mm

Diameter

85 mm

70 mm

Weight

640 g

340 g

* For Axes 1-2-3

** For Axes 4-5-6