The electronics market for the business and entertainment sectors is overrun by smartphones and tablets.
These devices are available in everyday life and, for a growing number of people, are becoming the best human-machine interaction system.
In response to this trend, Comau has developed an Android application to perform "pick and place" operations in a completely new way, based on an "ease of use" philosophy.
In the new version of PickApp 1.1, Cognex smart camera is supported to facilitate the application of Pick&Place with Vision System.
Normally, robot programmers are skilled technicians who use a teach pendant to interact with the robot. Comau wants to reverse this approach by giving our customers a more intuitive, easier and faster way to control a robot using an Android tablet!
Ease of use 
Intuitive Geographical User Interface
Fast programming within 15 mins for Pick&Place Application
Smart Camera Configuration Wizard
Wireless Connection
No connection cable
Industry Wireless Protocol support & Access point support
One table can manage multiple controllers
Vision System
Cognex camera support
Multi camera mounting position support
Autonomous pattern recognition
Linear/Angular displacement compensation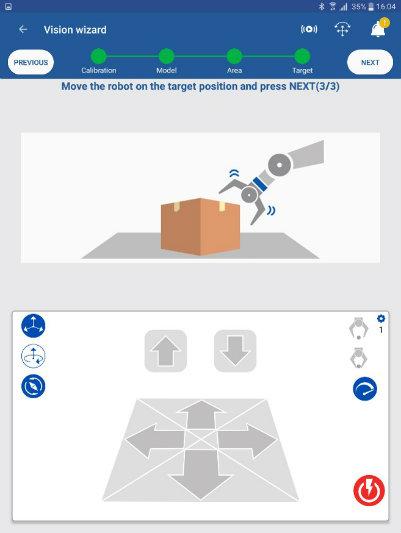 Application requirements:
​*To run the application a specific software option is required. If this is not present on your robot, please contact Robotics Benelux.
​SW versions
​Tablet – From Android 5.0 (Lollipop) and above
Controller – From R1C/R1C-4 version 1.11.010
​​Android Tablets with 8"-10'' screen (4/3 aspect ratio)
We suggest using the following tested models: *
Android Tablets
Samsung Galaxy Tab S2 8.0 VE LTE
Samsung Galaxy Tab S2 9.7 VE LTE
Samsung Tab A6
Ruggetech fieldpad8
Compatible Robots
All robots with R1C-4 controllers. R1C controllers need an additional bypass connector
Required a wi-fi connection able to access to Controller/robot IP address. If not present a plant wi-fi an access point can be installed in the R1C/R1C-4 controller. Tested models with 802.11g/n/ac protocols:
Connectivity
Hirschmann BAT-REUWW9ACC99A07T1S99PZH09
Netgear WAC730
D-Link DAP-1360
D-Link DWL-900 AP+
* Application functionalities are not fully guaranteed with different tablet models.